Click on Start/All Programs/Administrative tools/Windows Deployment Services.
at this point we can see that
WDS is not configured yet
, so let's do that now.
right click on the server name in the left pane and choose
Configure Server
at the welcome page click next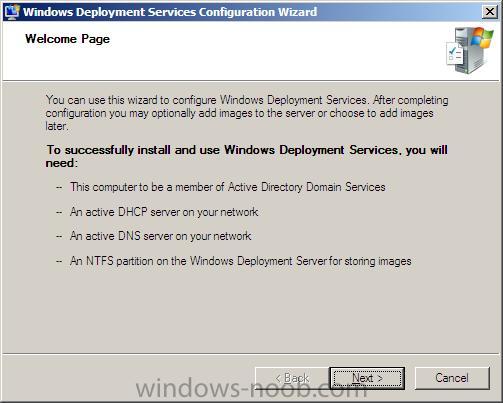 change the remoteinstall path from the default C:\RemoteInstall to D:\RemoteInstall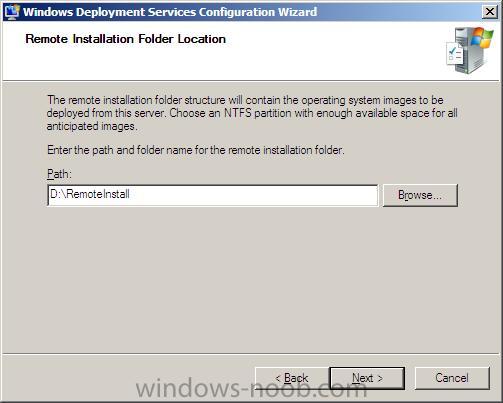 I put a
checkmark in each
of the DHCP options then clicked next
I then chose to respond to all known and unknown computers (
by default it's set to Do not respond to any
)
Please note, if you want to set this option to only respond to known computers, then you can do so, but you will have to prestage your computers in Active Directory to do so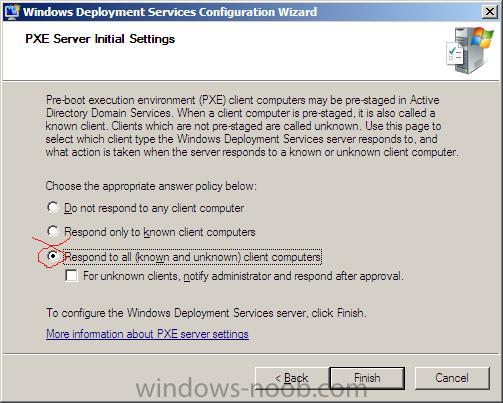 clicking on Finish applies these settings
when done, you'll be told that the configuration is complete and that
you can now add images to the WDS server
, click on Finish (again).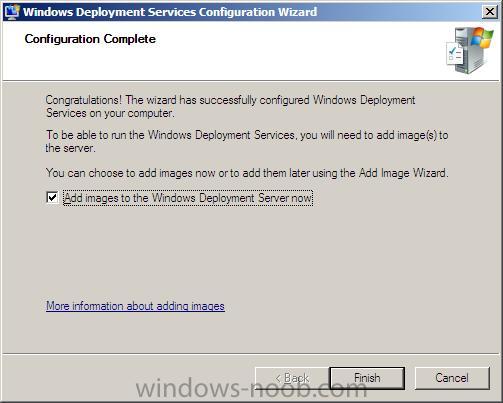 Step 5. Adding boot.wim and install.wim
Note: You should use only the boot.wim file from the Windows Server 2008 DVD. If you use the boot.wim file from the Windows Vista DVD, you will not be able to use the full functionality of Windows Deployment Services for example, multicasting. If you have the Windows Vista SP1 dvd, you can safely use that for the boot.wim.
The Windows Deployment Add image wizard will appear, insert your Windows 2008 Server DVD and click Browse, select the sources folder on the Windows 2008 DVD and then click next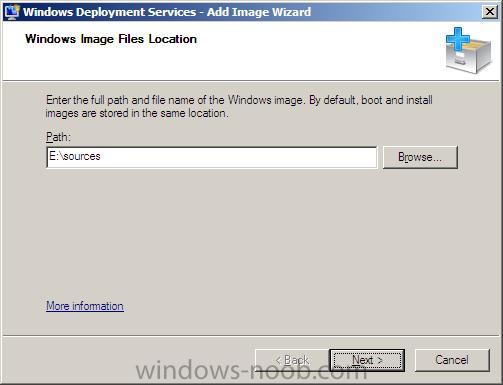 you'll be prompted to create a new image group, lets call it ImageGroup1 (the default name, you can change it later to Windows Server 2008 or Windows Vista Sp1 or whatever...).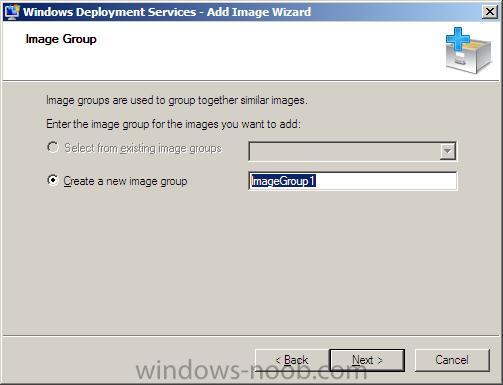 review your settings and click next when ready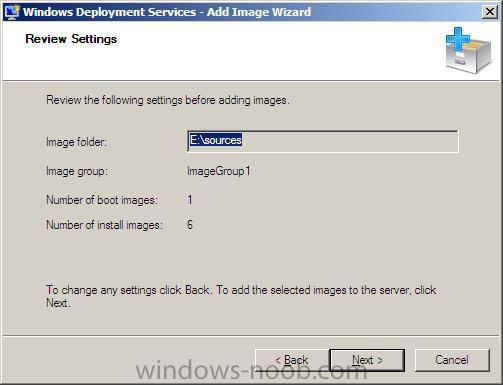 After a long while, the selected images will be added to the WDS server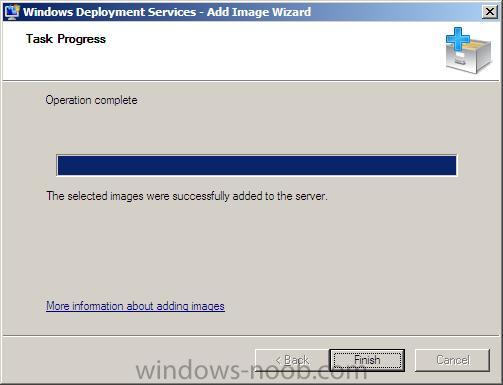 click finish and review the WDS server as it is now
in the
Boot Images
pane, you should see
Microsoft Windows Longhorn Setup (x86)
and this is the original
boot.wim
file from the Windows 2008 Server DVD, please note that this is the default description name of the image, you could change it when addint the boot.wim image to something more descriptive
as in this example

In the
Install Images
pane, we can see the six available images from the Windows 2008 Server DVD, these are based upon the
install.wim
file on the DVD.

you can now PXE boot your client computers to the Windows 2008 WDS server.
troubleshooting note: if you add a new image to WDS and attempt to pxe boot and then install the image but get an error saying something like 'could not display the list of' then make sure you have used BOOT.WIM from a Windows Server 2008 DVD or Windows Vista sp1.